I suppose it is time for an update! Winter is in full swing! So far, Rob and I have been having a blast. We have gotten quite a bit of snow (not nearly as much as our friends in Spokane who are pretty much stuck inside) but it is a good amount to where everything is nice and white but not too much to where it hinders our ability to do anything. Although, and I think Rob would agree, it is getting a little tiresome to have to shovel the sidewalks 2,3,4 times a day.
With just a few days to go, we are ready and rearing for Christmas! Sadly enough, we will not be able to go to Lakewood and take part in my family's Christmas traditions. Rob's family is pretty much all in California, and while it is slightly sad that we will not be in the middle of family gatherings, there is plenty to be said about getting to spend our very first Christmas together, alone with our pups, in our own little house. My family is driving over on the day after Christmas and will spend the weekend with us so we will still get some fun family time. Needless to say, we are very looking forward to all of it.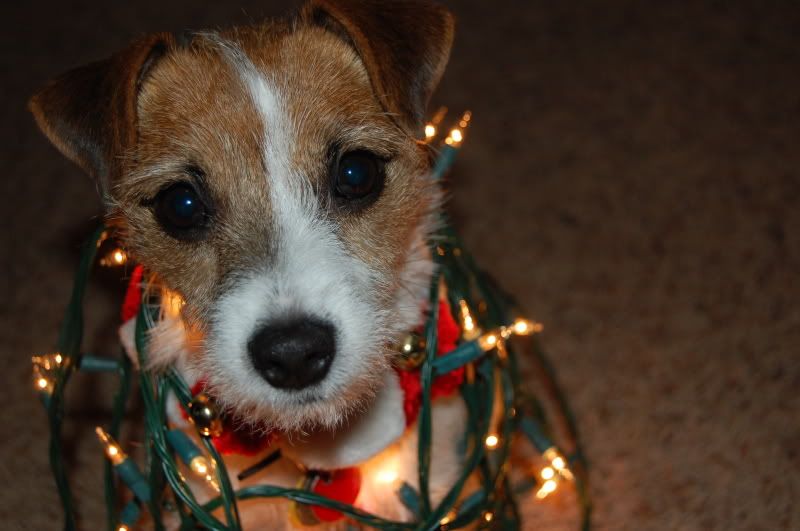 We set off December with a bang and on the first (my birthday) we went out and got a tree, (real, of course) put lights up on the house, and got out the (few) Christmas decorations and made our house feel a little more like Christmas!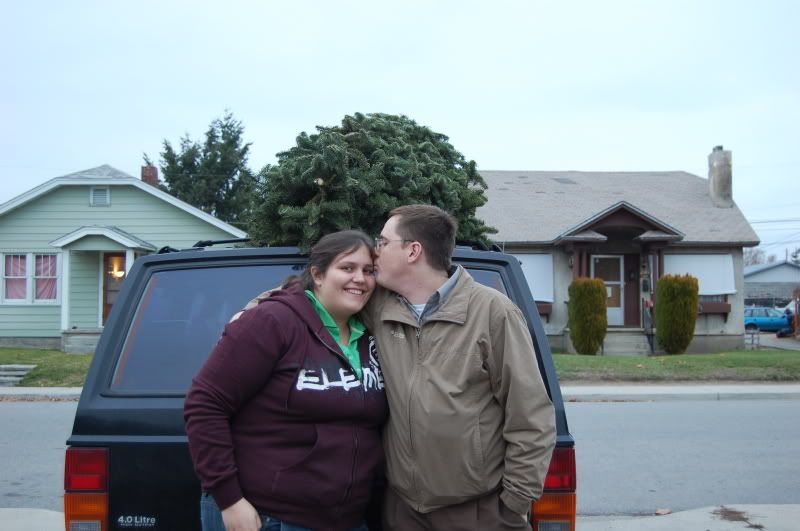 (These stockings were so easy to make it was almost like cheating. I borrowed an idea from Martha Stewart of all people, and went to Goodwill, found cool, old sweaters, and made them into stockings. We are really excited with how they turned out.)


Quite a few years ago, I got this dancing/singing snowman from my Grandma. Over the years, he has become a family favorite. This year, however, Baylee decided she absolutely HATES- and I mean loathes- Mr. Dancing Snowman. I don't know if she is jealous of his moves or what, but she wants nothing more than to take him down.
I spent much of last week baking all sorts of cookies that we really aren't too sure what to do with. I will post one of my favorite recipes sometime this week; it is definitely one to use.
The dogs aren't too sure of the snow. For awhile, they would run outside to use the bathroom and hide under the deck until I bribed them out with treats. They still aren't too fond of tromping around in it, but Baylee has taken it upon herself to make sure she eats each and every last flake until it is gone. There is enough snow outside now, that if they don't jump through it, they sink and just their heads show. They don't think that is nearly as funny as we do.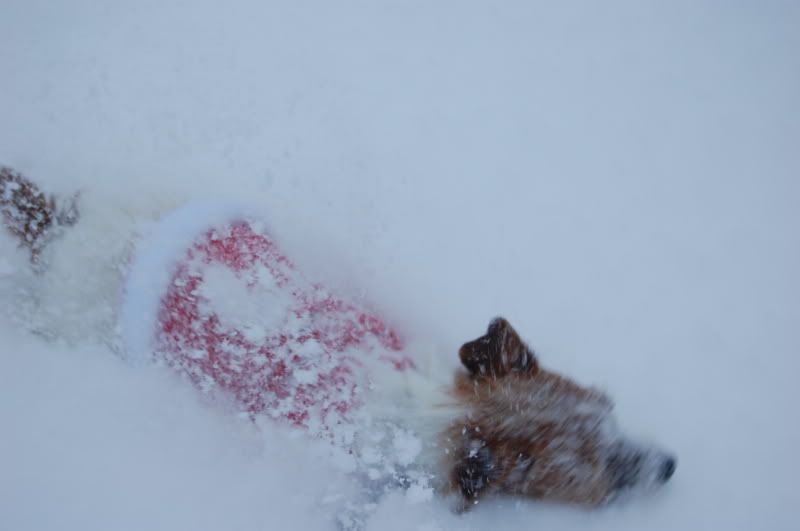 Today while we were out shoveling the sidewalks for the third time, I (in my picture obsession) decided it would be a great time to get some good family photos. I set up the camera on the hood of the Jeep on top of a cardboard box, pressed the self timer, and ran as quickly as I could without slipping in the snow and ice and falling flat on my face. Due to the harsh weather conditions, I only took two (compared to my typical 2-3 hundred) and considered myself lucky to even get that. This was the best of the two, (considering our heads were entirely cut off in the other) but still not all that great. (Note to Santa: I would really appreciate the remote and tripod for my Nikon that's on my list...)
Luckily our neighbor was pained in watching our failed attempts at self portraits, and offered to snap a picture for us. She works at the humane society and photographs the dogs for adoption, so using some very interesting noises, she actually got both the dogs to look at the camera and it turned out to be a pretty darn good shot. Thanks neighbor!
That has been our December thus far. Hopefully we won't get too much more snow than what we have been getting because I feel sick to my stomach to think of Rob driving all over the place in it. The man drives right around 1100 miles a week and that is about 1099 miles too many in this weather for my liking.
(Bella was extremely sad about taking a Christmas portrait. Baylee was, well, Baylee...she doesn't really care what you do to her.)


We hope you all have as merry of a Christmas as we are having and a really happy new year. We sent out Christmas cards last week, so hopefully you all enjoyed our little poem. :) We sure had fun writing it.